Last year I published my first Scrawny to (moderately) Brawny post documenting the progress I'd made during my body transformation journey. The post received a great response so six months later I'm back again with another update and a new batch of nudey photos. I hit a bit of a plateau in late 2011 so I thought I'd share what kind of changes I'm making to hopefully push myself towards my goal.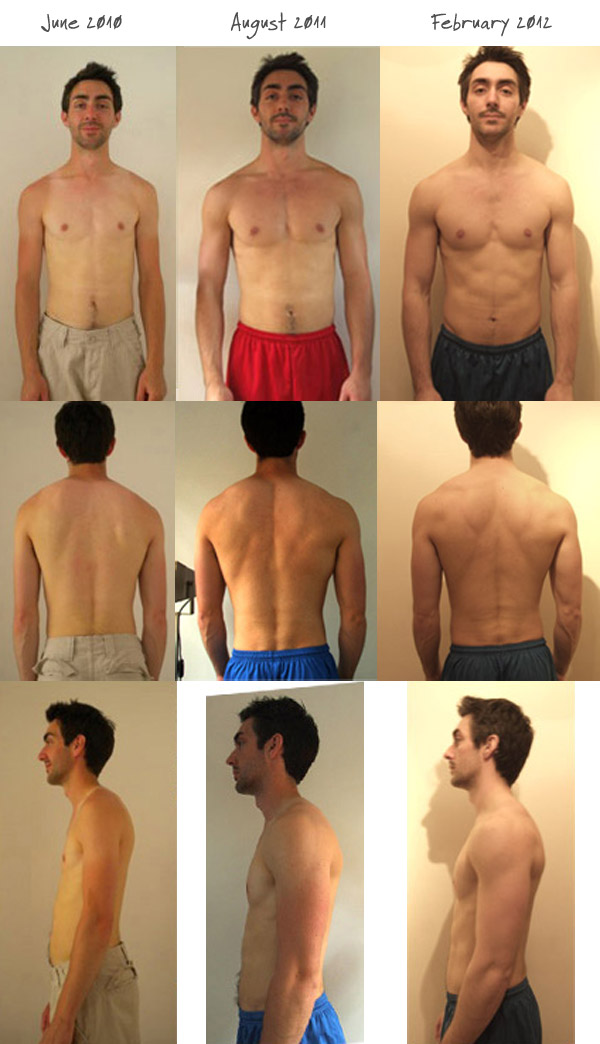 Here's my updated progress snapshots featuring my starting physique back in June 2010, the transformation I managed to achieve in a year up to August 2011 and the latest snaps six months after that in February 2012.
Stats & Figures
Height: 5′ 9″
Weight: 135lbs to 150lbs to 150lbs (Goal=160lbs)
So as you can see, in the last 6 months I've made zero progress numbers wise towards my 160lbs goal. I think the max I managed on the scales was 153lbs, but I soon dropped back to my usual 149-150lbs. The difference in lighting makes it difficult to see if there's any aesthetic changes, but just comparing my proportions to the 'before' shot keeps my head high!
I don't think I'll be appearing on any Calvin Klein underwear boxes anytime soon haha.
Why the plateau?
I think the main issue affecting my progress in the last six months is simply down to not advancing myself as much as I should. I was doing pretty much the same weight and same reps for the majority of late 2011, with maybe a few little increases in weight here and there. I had already done my research and knew I should be increasing the weights to keep shocking my muscles, but it was my mental barrier that I actually needed to work on.
I was lifting what I thought was the max I could manage, seeing as I was hitting failure at the 8-10 rep mark. It wasn't until I seriously stacked on a crazy amount of extra weight that I realised I could actually do more. My rep range dropped to 4-6 in most cases, but in some exercises I was still managing the 8 reps even with 20%+ more weight.
It has only been over the past couple of weeks that I've dramatically increased the weight on all my exercises and dropped the target reps to between 4-8, so hopefully along with some little routine and diet changes I'll be back on track to that 160lbs goal.
Routine update
Here's my amended weekly routine:
EDIT: A note about weights – A couple of people were interested in the amount of weight I was using for each exercise. I'm happy to share the info, but keep in mind that the weight I use might be waaayy less/more than someone else uses. It's all about selecting your own weights that are challenging while allowing you to keep good form.
It's also worth mentioning I do a few warm up sets of around 25% and 50% of these weights at the start of the session.
Monday: Chest
Bench press: 3 sets, 6-8 reps. – 70kg / 64kg
Dumbbell flys: 3 sets, 6-8 reps. – 24kg
Incline press: 3 sets, 6-8 reps. – 22kg (dumbbells)
Incline dumbbell flys: 3 sets, 6-8 reps. – 18kg
Tuesday: Back
Bent-over row: 3 sets, 6-10 reps. – 60kg
Wide grip pullups: 3 sets, 6-8 reps.
Dumbbell row: 3 sets, 6-8reps. – 40kg
Close grip pullups: 3 sets, 6-10 reps.
With the extra weight across the board and having slowed the pace right down on the wide grip pullups I was too knackered for the close grip pullups, so they've gone. Sometimes I'll add in a set of slow negative rep wide grip pullups at the end instead.
Wednesday: Legs
French press: 3 sets, 6-8 reps. – 34kg
Dumbbell triceps extension: 3 sets 6-10 reps.
– 24kg (dumbbells)
Dumbbell kickbacks: 3 sets, 8-10 reps.
Barbell curls: 3 sets, 6-8 reps. – 34kg
Dumbbell hammer curls: 3 sets, 6-8 reps. 14kg
After doing the three major muscle groups in consecutive days I felt like I'd been hit by a bus by the time Thursday came, so legs are now on Friday.
I've switched my arms around so triceps are first, seeing as they're more compound exercises. Tricep extensions was redundant seeing as I was already doing French press, and kickbacks seem more of an isolation/shaping exercise so these have been switched for another mass builder in the form of close grip press.
Thursday: Shoulders & Abs
Dumbbell press: 3 sets, 6-10 reps. – 22kg
Dumbbell lateral raise: 3 sets, 8-10 reps. – 14kg
Dumbbell front raise: 3 sets, 8-10 reps.
Weighted crunches: 3 sets, 20 reps. – 10kg weight plate
Decline Bench situps: 3 sets, 10 reps.
Front delts are already being hit with the heavy dumbbell press exercise so front raises weren't really needed.
Added situps for more ab exercises to fill out this session.
I was thinking of adding some trap exercises on this day, but my traps actually look pretty decent on my back photo. Plus, I don't really want to be resting the bar on sore traps during squats the next day.
Friday: Arms
Sumo Squat: 3 sets, 6-8 reps. – 80kg
Sumo Deadlift: 3 sets, 6-8 reps. – 80kg
Single leg calf raise: 3 sets, 20 reps. – 32kg
I originally did sumo style squats to protect my lower back, but my back strength and form are good enough now to stick to normal squats, which helps target a different angle on the quads.
I still prefer the sumo stance for deadlifts though, I just can't do it with arms outside of my knees!
Diet update
My diet is pretty much the same as before, except I've switched from semi-skimmed to skimmed milk. I have quite a low body fat percentage currently so I thought I'd try and avoid too much extra fat. It's inevitable that fat will be gained while bulking but the change wasn't a big calorie drop. (Update: I've now decided to switch back to semi-skimmed milk after learning that fat doesn't make you fat – Too many excess calories makes you fat – My overall fat count ended up being pretty low at 55g, so semi skimmed milk helps bump that back up to 70g and pushes my overall calories to 3200 with the help of an extra afternoon snack.)
I now have Tuna most days for lunch, rather than just every so often. It's packed with much more protein than ham and has those good oils/fats fish tend to provide. I can't go without my packet of crisps but I've switched from fried to baked crisps as a slightly better choice.
I've also added a bowl of cereal to my evening snack. The carbs probably aren't too good before bed but it fits into my overall macros to keep me around the 3000 cals mark.
Overall I'm still eating a normal three main meals a day, with the addition of eggs to my breakfast and those three banana and whey shake snacks in between. I keep thinking I need to eat more, but while the numbers are correct I'll stick it out so I don't end up too tubby! Average numbers are: 400g carbs, 200g protein, 70g fat.
Inspiration & Motivation Update
I still watch all the previously mentioned fitness YouTubers, but I also recently signed up to Greg Plitt's member's website. You sometimes don't get a feel for the intensity you should be bringing to a workout when watching exercise demonstration videos, this is where Greg's videos help show what you should be aiming for and give you that motivation to tear it up. His video blog section in the member's section is also handy for everyday life inspiration. Just check out the intro on his site to see the kinds of accomplishments he's made. I think I have a new man crush.
If you're just starting out in this kind of thing and wanting to learn all about exercises and nutrition, much of the information is available for free from various articles around the web, but it's well worth the membership to Greg's site just to have it all available and explained in one place.