It's now about a month since I treated myself to a GoPro Hero 2 camera. Since then I've been figuring out all the settings and learning how to best use the camera for different purposes. I have to admit, I was a little disappointed in the tech behind the camera at first, but now I've picked up a few tips & tricks it performs exactly how I'd hoped. In this post I'll be sharing everything I've learnt, so if you've just picked up one of these little gizmos yourself, hopefully these little tips will help you capture the best quality footage possible.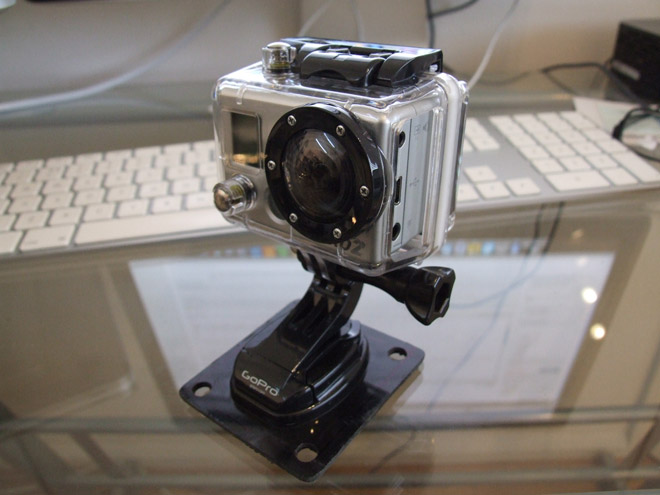 I originally wanted a camera to replace my Flip Ultra HD as an everyday vlogging camera, but also something I can use to capture my more action packed ventures. The GoPro obviously has the action requirements covered with its small size, variety of mounts and waterproof case. Then with the help of the LCD BacPac accessory it seemed to make a good candidate for use as a typical video camera. Unfortunately it let me down in a couple of areas, particularly its Field of View (FOV) settings and absolutely terrible audio quality, but thankfully I found decent solutions to both:
GoPro Field of View (FOV) Settings
As standard the GoPro features a super wide lens, which is great for action shots as it allows you to record a huge field of view with the ever so cool fisheye effect, but for vlogging and using the camera in every day life the last thing you want is your face being bloated and warped.
"But wait, doesn't the GoPro come with two FOV settings?" Yes it does, but this is where the problem starts. Not only is the 127° Semi-Wide Angle setting only available in 1080p, the actual quality of the footage is reduced dramatically. Apparently the GoPro simply crops into the image sensor to change the field of view, much like a digital zoom on a camera, so the quality is reduced and the image becomes grainy.
Thankfully I did find a workaround to use the camera to film non-action sports while avoiding the fish-eye effect. Simply record everything in the standard ultra-wide 1080p mode, then import your video footage into a 720p workspace in your favourite editing application. The footage will then be cropped to create the same field of view as the GoPro's narrower option, except your video maintains its crisp quality using the full image sensor. Just remember not to frame your shots too closely while recording, as the areas most affected by the warping around the edges will be lost.
GoPro Audio Quality
During my initial research I already knew the GoPro had terrible audio quality issues so I wasn't hugely surprised during my first test clips, but I can imagine anyone who expected great things from this camera to be deeply shocked with what they hear. When using the camera for its basic purpose to capture action sports you don't really need great audio, but for use as a standard video camera you'll need the Skeleton Housing in order to access the external mic port.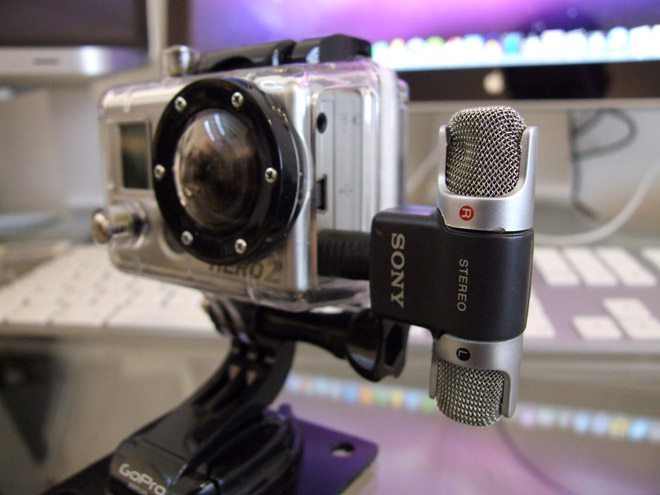 Your choice of mic depends how pro you are and how much money you have left over. For the average consumer I recommend the (fake) Sony ECM-DS70p. There's two versions of this mic available, one is the official version at £40+, the second which you'll find on eBay for £3 is fake. As shown in this video the fake one actually sounds better!
GoPro Slow Motion
One feature I was disappointed to find the GoPro camera lacked was the awesome slow motion effects shown in the official "2X More Powerful" video. When browsing through the spec I noticed 30fps, 48fps, 60fps and 120fps, so I just assumed those super slow-mo shots in the video were created using 120fps. It turns out the 120fps framerate can only be used at 848×480, which leaves that setting pretty much obsolete in this high definition age. I soon learnt that you would need a $600 plugin named Twixtor to recreate those official GoPro slow-mo effects.
The only real solution to capture slow motion is to record in 720p at 60fps, then reduce the speed by 50% to play back at 30fps. It's just a shame the 1080p mode doesn't have 60fps available.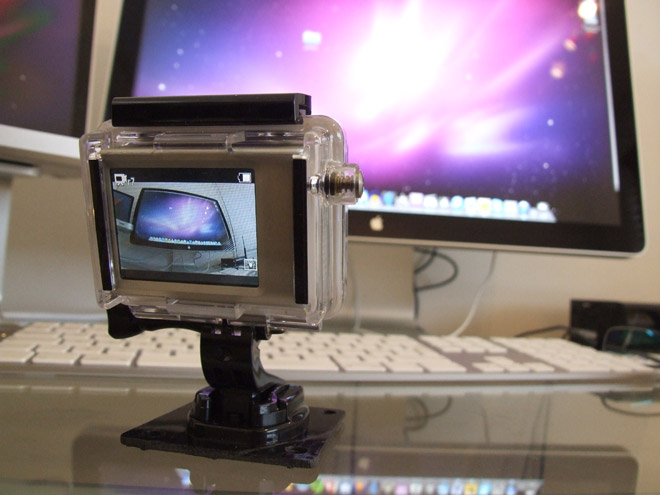 GoPro Resolutions & Their Uses
One of the most common confusions I saw on forums was which GoPro setting should be used for certain situations. Here's my basic overview:
1080p – Full quality. If in doubt, use this setting. Slow motion can still be created with Twixtor (if you can afford it. I can't). Also allows you to manually crop the FOV to 720p during editing for more standard looking footage.
720p 60fps – Use this setting for basic slow motion or high action sports. Can be slowed by 50% in a 30fps workspace.
720p 30fps – Use this setting if you're short on memory, otherwise use 1080p.
960p 48fps/30fps – This setting is 4:3 by default, but it allows you to crop it into widescreen proportions in a 720p workspace. This is particular handy if you aren't using the LCD BacPac, so if you misaligned your shot you can adjust the vertical position of the clip in your editing app. Otherwise use 1080p or 720p/60fps.
480p 120fps/60fps – Too small. Use Twixtor to create those slow motion effects in HD.
Misc tips & Tricks
Here's a few more individual tips & tricks that are worth knowing about your GoPro:
Buy the GoPro Tripod mount to open up a whole new world of standard camera mount options.
You can use a USB wall adapter to power the GoPro while creating time lapse videos.
Save the plastic mount the GoPro is packaged with. Trim it down and drill some holes for zip-ties to create a custom mount.
In my opinion the Motorsport edition comes with the most worthwhile mounts.
Don't confuse the Hero with the Hero 2, the Hero 2 really is "2X more powerful in every way".
Final words
Overall I'm really happy with the GoPro Hero 2, despite those initial disappointments I soon found workarounds to use the GoPro how I intended as both an action sports camera and an every day video camera. You can see my hand full of GoPro videos so far over on YouTube. Stay tuned for some more action packed videos as I get back into my lifelong hobby of Mountain Biking.